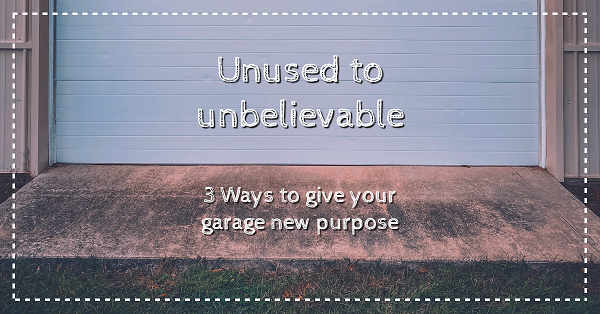 Many homeowners want to transform garage space into something more useful and fitting their lifestyles. However, it can be difficult to know where to begin. Even with plenty of extra floor space and empty garage walls, how do you make it a real living space? If your garage needs a new purpose, finding the right project can transform the space.
Add a laundry nook
In many homes, the washer and dryer are hooked up in the garage. Even if you don't have a particularly uninviting or dark garage, you can make your laundry tasks seem like less of a chore by creating a dedicated space in the garage.
Put the garage wall space to good use by adding valuable storage space. Pegboards are a clever way to enhance your new laundry nook with functional yet elegant storage shelves, hooks and more.
Home office renovation
Working at home can sometimes be both a blessing and a curse. While you can enjoy many of the relaxing aspects of a home office, it can be impossible to concentrate without a dedicated workspace. If you have a garage in need of a makeover, consider setting up a home office there.
Your garage will be quiet and slightly isolated from the rest of the household, making it a wonderful location to work. Dress up the space with stylish lighting and a cozy area rug to cover the cold garage floor.
Tidy mud room
Mud rooms are usually found in entryways or behind doors to the yard. However, there's no reason you can't use the garage as an excellent mudroom. Add a comfortable but simple bench, plenty of wall hooks for jackets and even some waterproof shoe storage to keep the mud and rain from coming into the home.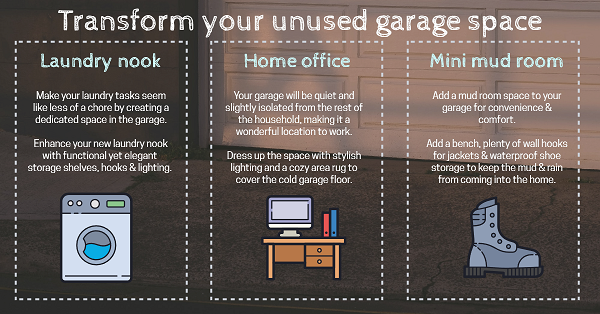 There are plenty of ways you can upgrade your garage and make it more useful for your daily life. If you're interested in ways to utilize wasted space, keep these renovation ideas to invigorate a dark or dingy garage with new purpose and style.